If your Today wordle Answer contains AID Letters in them then, Check out these 5-letter words list having AID letters (In any Order) and use this list to solve today's wordle or any word puzzle game that you're working on.
It's tough to Solve 5 letter word puzzle game daily without taking hints because some words are really hard that required a few word hints to guess the puzzle. If today's Wordle or any 5-letter puzzle contains words with AID letters in them then, you can try out the list of words mentioned below to find the correct Word.
All 5-Letter words that Contain AID – Wordle Hint
Here is the list of all English five-letter words that contain these (A, I, D) letters in any position. There are many five-letter words in the list so you have to figure out the words that do not contain today's word or are in misplaced positions. Eliminate the words that do not fit for your possible solution and in that way you can easily narrow down the full list.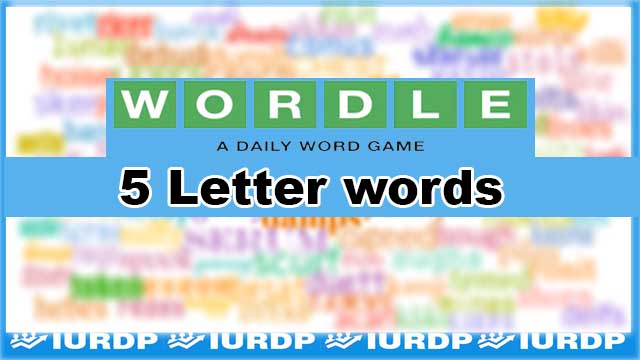 Tips: Try to use the words that contain most vowels or commonly used English words.
5-Letter Words Containing AID in them List
abide
acids
acidy
acrid
addio
adieu
adios
adits
admin
admit
admix
aduki
aidas
aided
aider
aides
ailed
aimed
aired
alcid
algid
amide
amido
amids
aphid
aroid
asdic
aside
audio
audit
avoid
azide
braid
cadis
canid
cardi
daily
daine
dairy
daisy
dalis
danio
davit
dials
diane
diary
diazo
dicta
dikas
dinar
diram
disas
dital
ditas
divan
divas
diwan
diyas
dosai
drain
dulia
hadji
halid
ideal
ideas
idola
india
irade
jihad
kadai
kadis
kinda
laids
laird
liard
lidar
maids
mandi
media
nadir
naiad
nicad
nidal
oidia
padri
pardi
plaid
podia
rabid
radii
radio
radix
raids
rapid
redia
riads
saids
sapid
sayid
sidas
staid
tidal
triad
valid
vapid
viand
wadis
That is all possible 5 letter words that contain AID Letter. Hope our list helps you find the wordle or 5 letter puzzle answers you are working on. Explore our Wordle Section to find more hints!