Here is the list of 5 letter words ending with IC that will help you to solve today's wordle puzzle and keep your strike up.
It's really hard to Solve 5 letter word puzzle game daily without taking hints because some words are hard and require some hints to guess the puzzle you're working on. If today's Wordle or any word-related puzzle contains words that end with IC. You can try out the list of words mentioned below to solve the wordle game.

5 Letter words that end in IC alphabets – Word puzzle
Here is the list of all English five letters words that contain these ( ___ic ) letters in Exact position i.e I as the fourth letter and C as the fifth letter. There are many five-letter words in the list so you have to figure out the words that do not contain today's word or are in misplaced positions. Eliminate the words that do not fit for your possible solution and in that way you can easily narrow down the full list.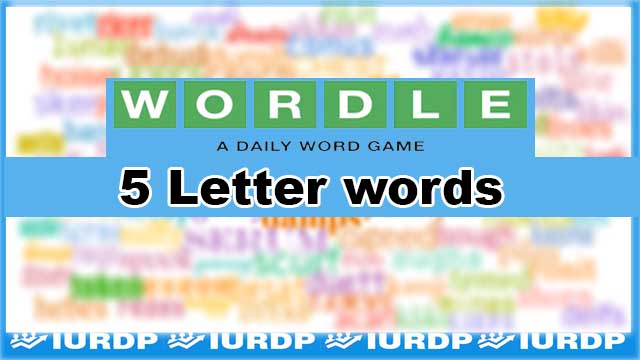 Tips: Try to use the words that contain most vowels or commonly used English words.
5-Letter Words Ending with IC  List
acmic
amnic
antic
areic
artic
asdic
aspic
attic
aulic
auric
azoic
baric
basic
boric
ceric
civic
colic
comic
conic
craic
cubic
cynic
daric
demic
dinic
domic
doric
ethic
folic
gamic
genic
hemic
humic
hylic
ictic
iodic
ionic
logic
loric
lotic
ludic
lyric
lytic
mafic
magic
malic
manic
medic
melic
mesic
metic
mimic
monic
mucic
music
naric
nomic
ogmic
ohmic
oleic
ontic
optic
orgic
osmic
panic
pubic
pudic
pyric
rabic
relic
ridic
roric
runic
salic
sepic
seric
sodic
sonic
stoic
telic
theic
tonic
topic
toric
toxic
tunic
typic
ureic
vatic
vinic
vraic
xenic
xeric
xylic
yogic
yonic
zymic
That is all possible 5 letter words that end with IC Letters. Hope our list helps you to find the wordle or any five-letter word game answers that you are working on. Explore our Wordle Section to find more hints!